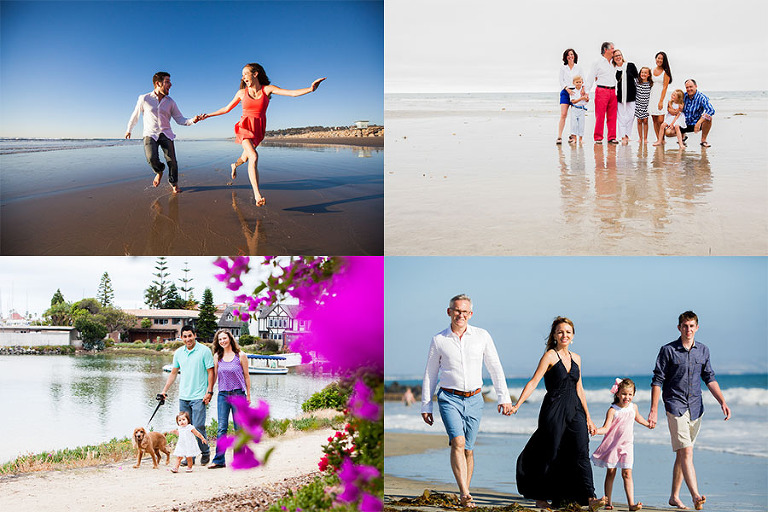 Framed by blue sky that stretches from horizon to horizon and the endless expanse of the mighty Pacific, the beach provides the perfect dramatic backdrop for a family portrait. With sun, waves, and breezes, the beach is nothing like the average tame photo studio. You're out in the elements, baby! So keep these simple suggestions in mind for a beautiful beachy photo shoot.
Fun in the sun
If you're thinking of hiring a professional photographer for beach family photos, you have to realize this won't be a formal family portrait. The sun, sand, wind, and water converge to create an ever-changing environment. Prepare your kids by telling them they're going to have fun at the beach. No bribing needed, if you set yourself up for success. We promise you, their smiles will be natural because they'll be having such a great time. So leave the ties, the uptight attitudes, and the hairspray at home.
High tides and high noon
When you're scheduling your photo shoot, you should be aware of the tides and the position of the sun. When it's high tide, some beaches are almost completely submerged, which can make it difficult to find a place to stand. It's best to plan your shoot during low tide or close to it. Likewise, at high noon, the sun can cast harsh shadows, so you'll want to schedule your shoot earlier in the morning or later in the afternoon.
Loose and natural
This isn't the time to try a new hairstyle or a formal upsweep with every hair in place. Beaches come with breezes, so go for a natural look.
Avoid matchy-matchy.
Nothing says 1990 more than the entire family dressing in jeans and matching white polo shirts. A more modern approach is to dress the entire family in a palette of coordinating colors. Just remember—solids photograph better than large prints, so save the Hawaiian shirt for the luau.
Think movement.
Your favorite sundress might be a little see-through in the bright light, so make sure you're wearing a slip, spanx or nude underwear! If you feel self-conscious about your arms, long sleeves are the way to go. Since the wind is almost always blowing at the beach, know that the ruffles on your shirt or dress could be too.
Footloose and fancy-free
Hey, this one is simple: here at the beach, you don't have to worry about shoes!
Local color
The camera tends to mute skin tones, so be sure to apply your makeup with a little more intensity than usual. Mascara and a little lip color is all thats really needed. We aren't going for an 'evening out' type of look, just a little "extra" is all you need.
Keep these tips in mind before heading out to make indelible moments in the sand. Your professional beach photographer will take care of the rest.
ElleG Photography is a San Diego beach photographer specializing in family portrait photography at the beach and underwater photo sessions. She loves photographing fellow water lovers with their feet planted in the sand or submerged 12 feet deep. If you have any questions about the best beach for photos or the best time of day to shoot, give her a call at 858-344-1068 or contact her at lisa@ellegphoto.com.